Terraced Garden
A terraced garden is easier to make use of than an unmanaged slope, and can make accessible that which once was merely a hindrance to outdoor enjoyment. In addition, a yard with both horizontal and vertical surfaces is inviting and visually dynamic. A hillside that has been effectively landscaped into usable garden terraces invites family and friends to explore and play an outdoor living space that had once been prohibitively steep.
Grosvenor Project
Our clients were not only new homeowners; they were new parents as well. They were desperately in need of a safe environment where their active toddler could run amok. We created a terraced garden design that would serve the needs of the client while remaining attuned to the local climate, microclimate, topography, and soil, while remaining responsive to the realities of limited resources. The intention was to create a design that conserved water and energy, limit green waste, and still provided an enjoyable outdoor extension of the family home. The garden we created for them sought to embrace the opportunities and challenges of landscaping in the Mediterranean climate of northern California's San Francisco Bay Area. The mild climate encourages outdoor activities nearly year-round, so the landscape design had to account for multiple uses throughout the year, including making sure there were areas for entertaining and relaxing.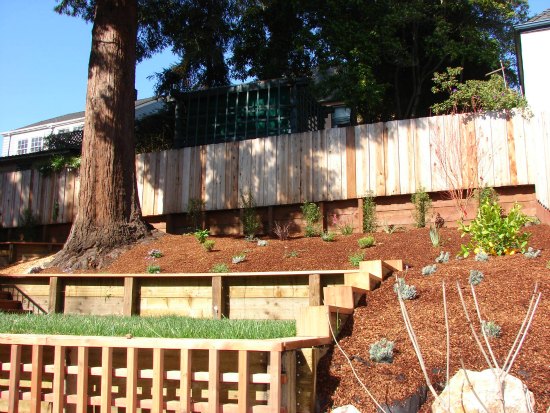 Terraced Backyard Hillside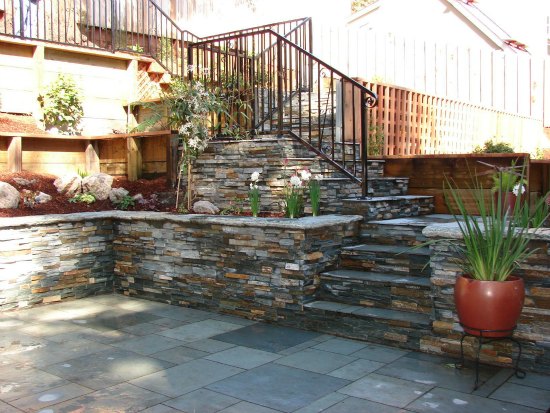 Stone Walls and Stairs with Iron Hand Railings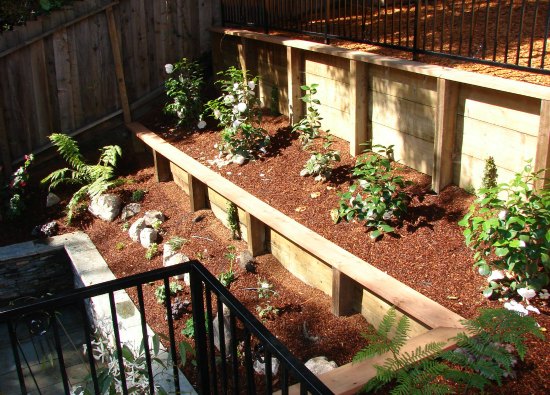 Wood Retaining Walls with Plantings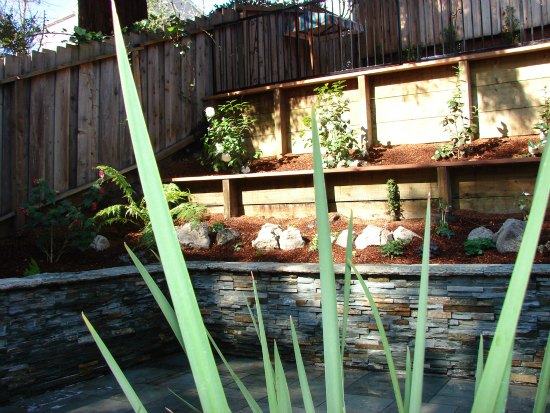 Terraced Patio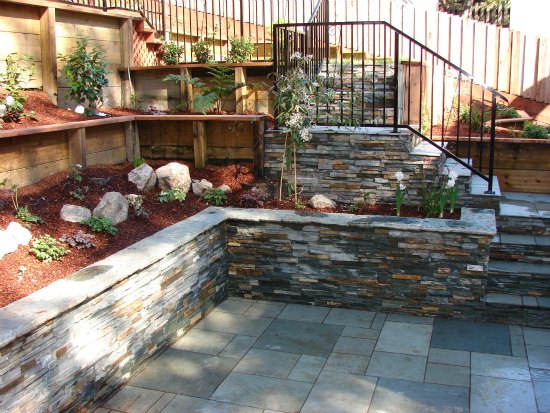 Stone Wall and Bluestone Patio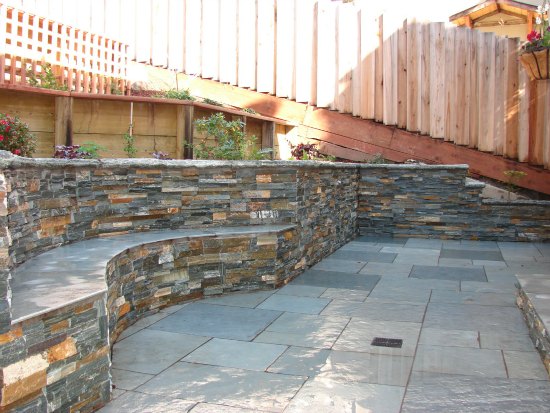 Stone Bench and Integrated Retaining Wall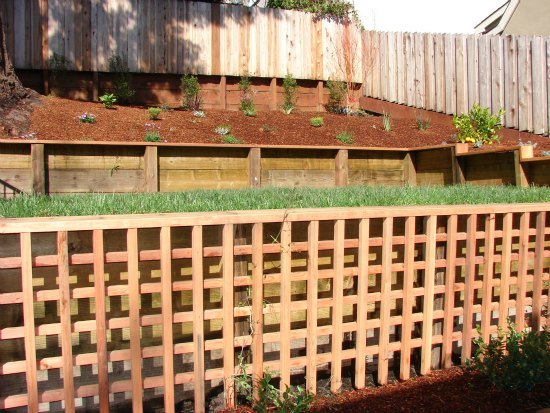 Pressure Treated Wood Retaining Wall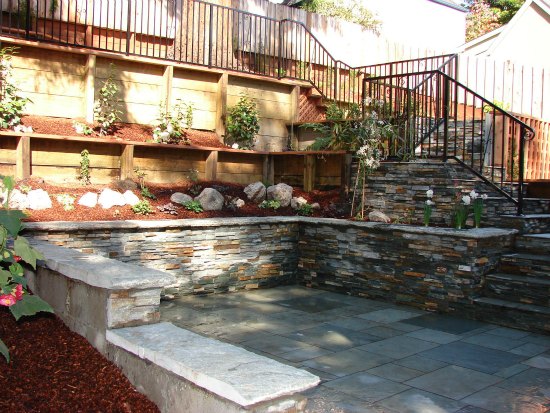 Landscaped Hillside with Stone Walls
Before Pictures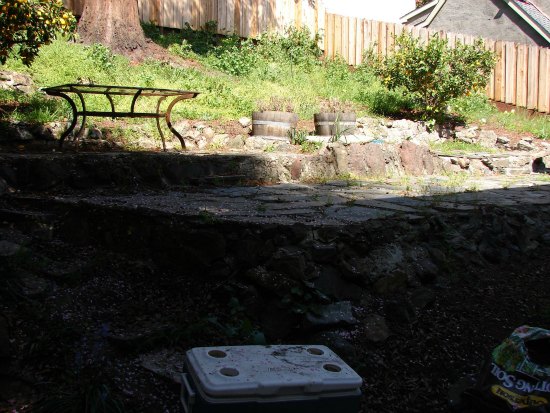 Overgrown Backyard Hillside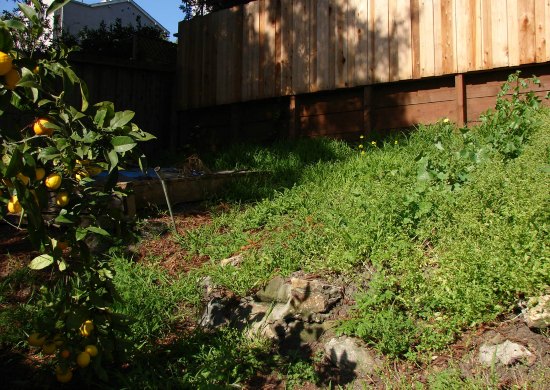 Overgrown Backyard Downslope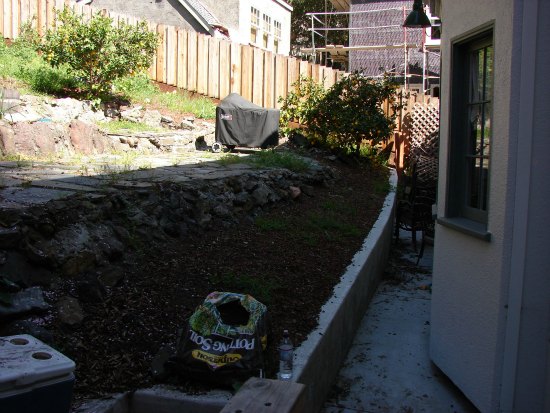 Failing Retaining Wall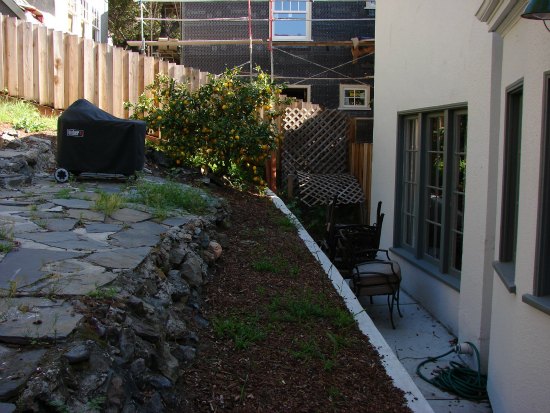 Backyard Hillside Construction Site
The final result of this project far exceeded everyone's expectations. We were able to see past the challenging constraints of the site, which included a steep hillside, tangles of bramble weeds, dense clay soil, as well working within a limited budget. In the end, we transformed their backyard into an open, well designed, family-friendly outdoor living space, which was an extension to their regal Crocker Highlands home. The garden now features a half-circular gathering area adjacent to the living room, an outdoor dining room and an upper lawn expanse with adjacent play space, with a custom-built play structure.
From Terraced Garden to Landscape Design Portfolio