Formal Garden Design

Formal garden design has evolved from subsistence farming to works of art due to the fortunate meeting and melding of cultures through out the ages. While the intention of creating a natural work of art was probably born somewhere in the Middle East, the true origins of the garden are lost to the sands of time. However, the garden designs of today still carry the vestiges of the original impulse to mold nature into a pleasure garden. This desire to recreate living outdoor spaces for relaxation and intimate communion with nature gave rise to formal ideas concerning the composition and layout of gardens.
Sunny Hills Project
Our clients hired us to redesign their gardens which were torn apart during a foundation retrofitting project. The beautiful circa 1909 classic Mediterranean residence --located on a prestigious, tree lined street in the Crocker Highlands neighborhood of Oakland, California -- required the gardens to be traditional, elegant, balanced and understated. Therefore, we designed the garden to compliment the architecture of the home, rather than compete with it.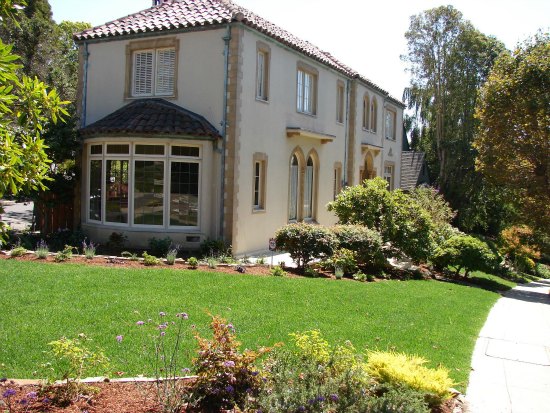 Formal Garden Design with Bay Window
Framing the lush expanse of lawn are undulating planting beds filled with oakleaf hydrangeas, variegated hostas, and a variety of ferns. In addition, maroon colored heucheras provided the accent. A low, stonewall outside the large picture window was both visually pleasing as well as functional in treating the differing grade changes around the residence. In the back, a large, wrap around deck was carefully restored and enhanced, becoming a favorite casual gathering space for barbeques, socializing, and sun bathing. The end result of our design and construction processes was an outdoor living space that had been restored so that it might once again complement the house. And the garden could once again serve its role as a personal sanctuary, an outdoor space for entertaining, and a familial source of pride.
Front Yard Garden with Swath of Verdant Lawn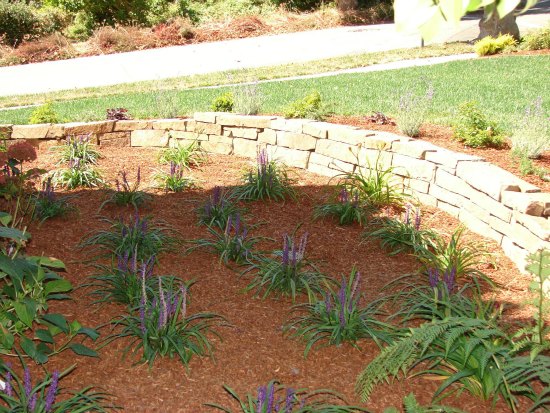 Massing of Liriope with Dry Stacked Ledge Stone Wall
Lush Planting in Side Yard Garden
Regraded Front Yard Garden
Landscaping with Tree Fern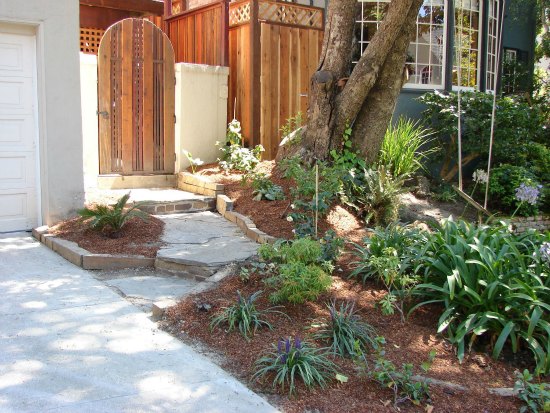 Side Yard Planting and Gate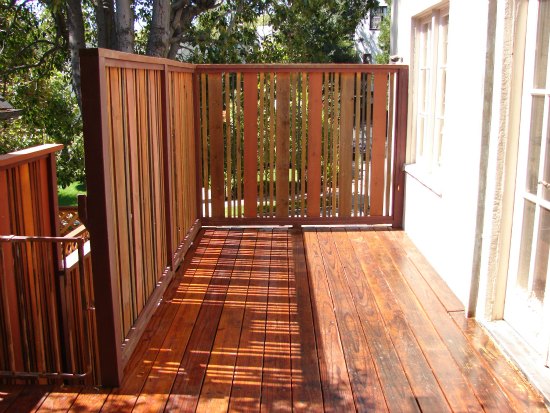 Custom Redwood Deck with Privacy Screening
Before Pictures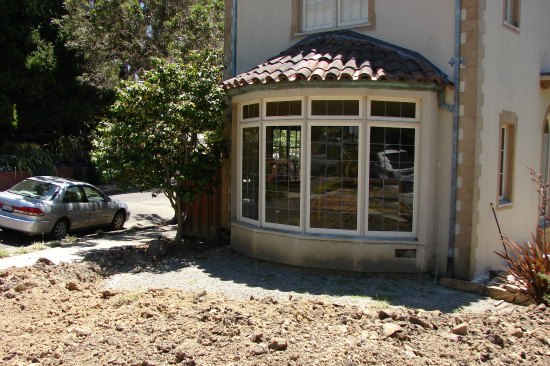 Blighted Yard with Bay Window
Unlandscaped Front Yard
Unlandscaped Front Yard Additional View
Unlandscaped Side Yard
From Formal Garden Design to Landscape Design Portfolio