Backyard Oasis
A backyard oasis is based on the ancient notion that gardens are meant for pleasure, relaxation, and rejuvenation. For instance, gardens of healing were a part of ancient Egyptian culture. Gardens of healing, solitude, and sanctuary were also part of the great monasteries and abbeys of medieval Europe. These Edens of healing reflect an awareness of the need to be in contact with nature for growth, renewal, and balance. Bringing that understanding to bear in the modern garden design is essential when creating a customized outdoor living space.
Sand Hill Project
This sprawling residence is located on a prominent corner, in a coveted upscale Menlo Park neighborhood. Our first visit found the gardens overrun with weeds and the house shrouded in juniper bushes. Simply locating the front door was a challenge! After that, an elegant Navajo Flagstone pathway to the front door was created. The path was lined with a combination of dwarf boxwoods and Marie Pavie white roses. The wide front embankment showcased California natives in soft purple, white and pink hues, including ceanothus, salvia, and rockrose.
Navajo Flagstone Walkway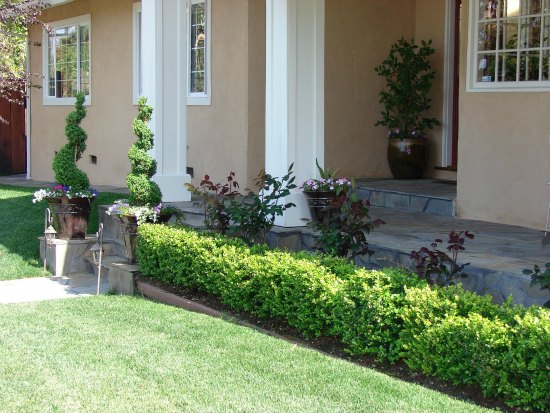 Formal Entry Planting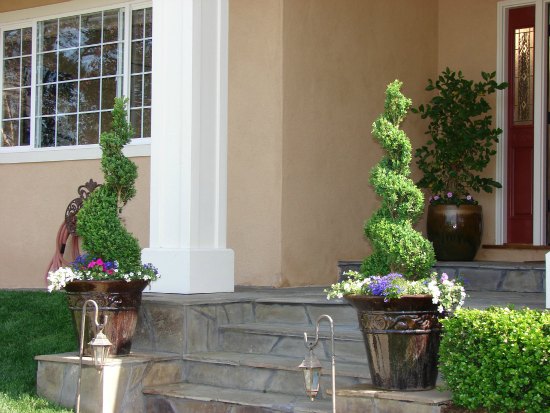 Topiary in Ceramic Planters at Entry
For the backyard, we connected the house with the garden by employing the use of focal points. That is, we strategically placed accent plants and outdoor art so they could be clearly seen and appreciated from both inside and outside the home. Now, the garden begins at the threshold of the home and unfolds into a series of terraces and outdoor rooms dedicated to hot tubbing and outdoor dining. Cascading down the hill and pooling at the edge of the lawn is a dynamic water feature. In addition to the pond, the back garden also offers a vast expanse of lawn which is the perfect place for a game of croquet or just kicking around a soccer ball. On the uppermost level is an impressionistic shaped sun deck, ideal for catching sun rays.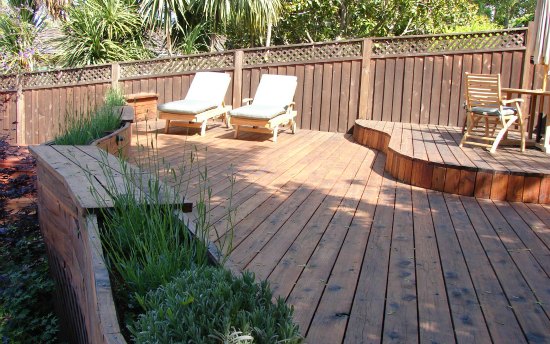 Redwood Deck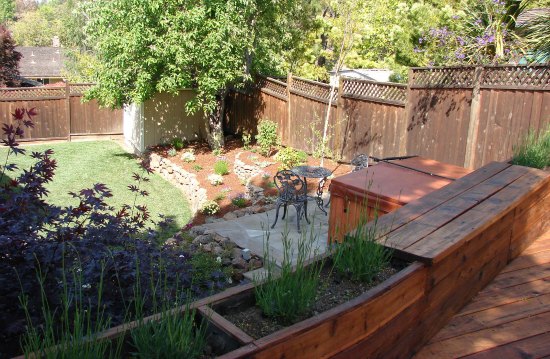 Redwood Planter Box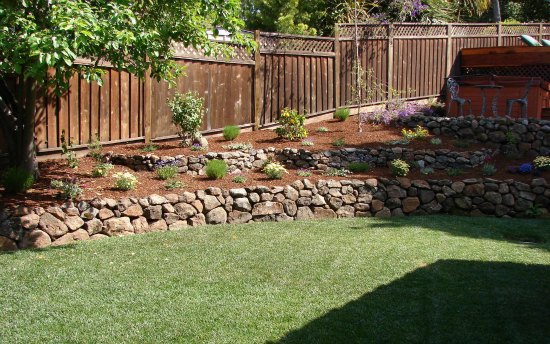 Lawn with Terraced Retaining Wall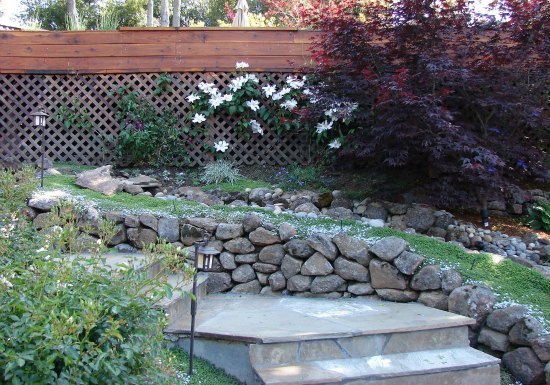 Garden Stepping Stones in Backyard Oasis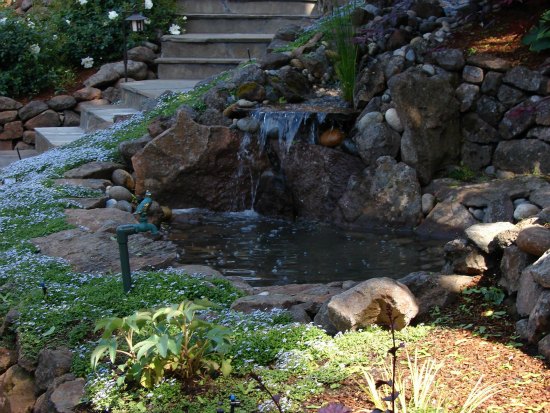 Garden Waterfall Water Feature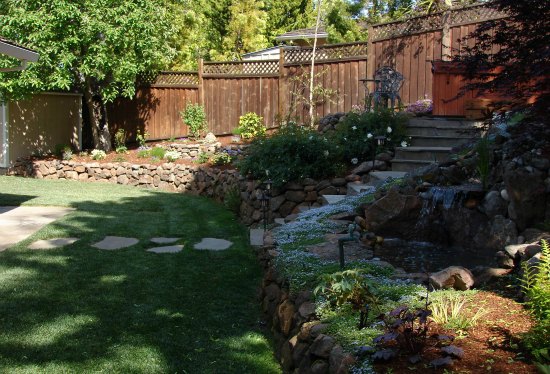 Lawn with Moss Rock Retaining Wall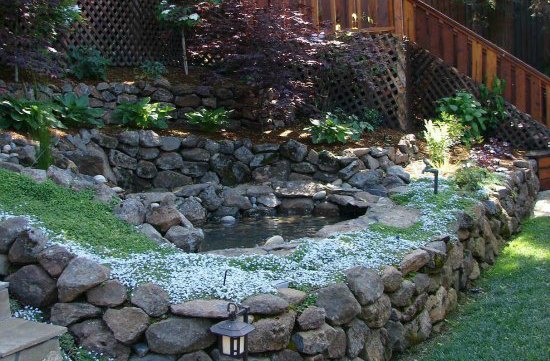 Pond Water Feature
For centuries, the garden has been a place to seek healing communion with nature. In the hectic pace of the modern world, the human spirit is calling for a reconnection to nature more than ever. Let us create a healing garden for relaxation, recreation, and contemplation for you.
From Backyard Oasis to Landscape Design Portfolio